Congratulations Dr Rizsa Albarracin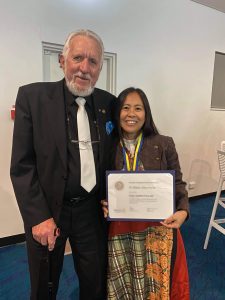 H.P.I. Management Committee member, Dr Rizsa Albarracin was recently made a Paul Harris Fellow. This is one of the highest Rotary International Awards.
Such an award is usually restricted to Rotary members but the Caloundra Rotary Club made the award to Rizsa, a non-member, because they recognised her significant contribution towards humanitarian and educational activities both in Australia and particularly in respect of the Shepherd's Arms Children's Home in the Philippines.
Rotary was founded by Paul Harris and in his honour this Award is given generally to Rotary members involved in projects that save and invigorate the lives of people around the world and enhance international friendship and understanding.
Congratulations Rizsa on receiving this prestigious Award. You continue to give, so much of yourself to help and support others in need. All of us involved in HPI are honoured to have you as a member of our organisation. You should be proud of your achievements.